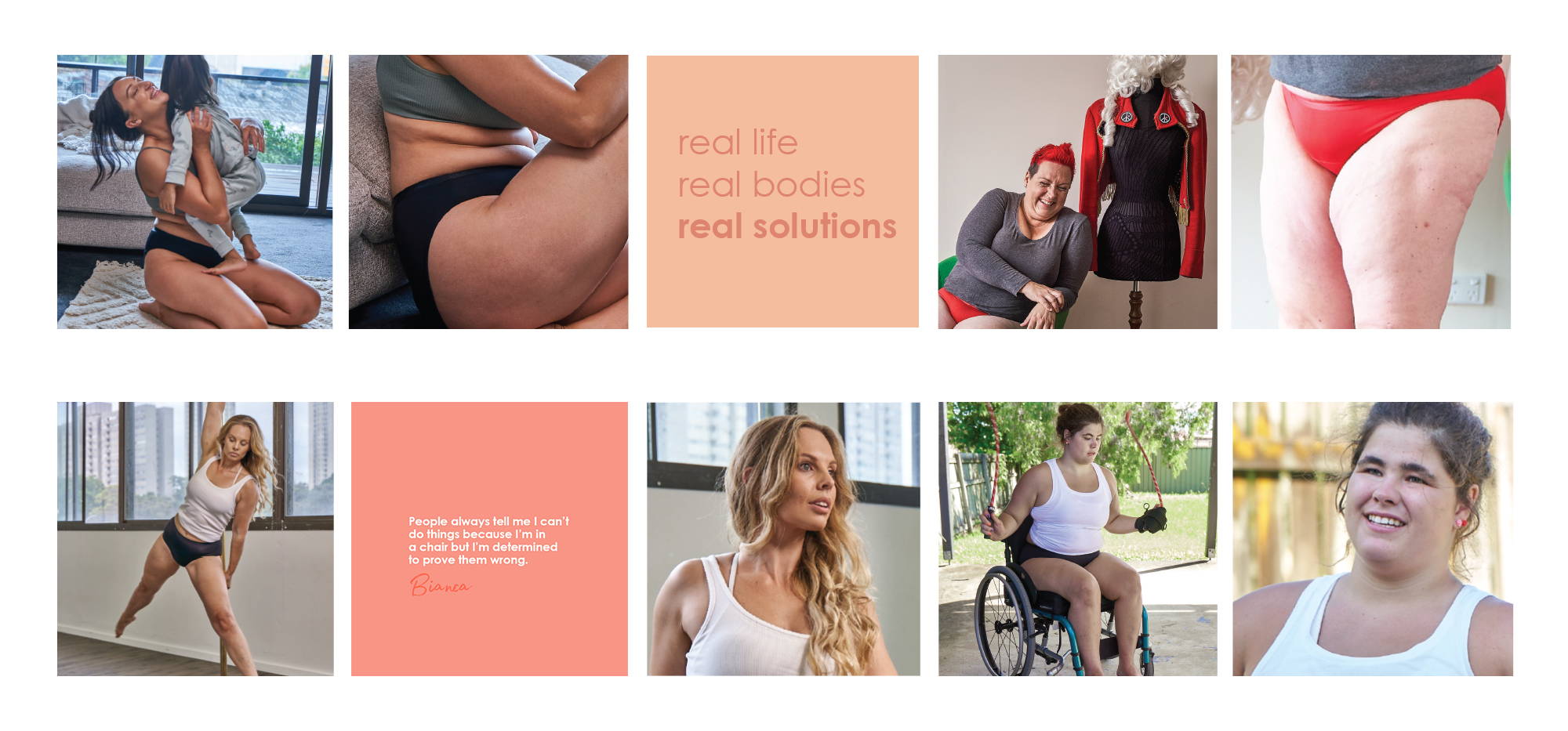 Real life, real bodies
real solutions

Real life can be full of negative thoughts, negative feelings about our bodies, our abilities; as career-people, as creatives, as mothers, as performers, as athletes, as carers, as thinkers. But we look at other people - people just like us - and feel admiration for their strength, respect for their determination and kindness in the face of their mistakes.
As we turn the tide on the body positivity movement, these are the words that we should use for ourselves too. Real life is for celebrating and so are our bodies, unedited, unapologetic, bleeding, leaking and sweating - this is what makes us real.
We're here to champion & celebrate you, our community. We're for you.

We're for embracing change.
"After giving birth to my daughter I felt so disconnected from my body - I didn't "bounce back", on top of that I had bladder leaks and I was scared to go outside. I looked in the mirror one day and I said 'I hate my body now' - then I turned around and my daughter was looking at me, listening to me. I knew right then I had to start accepting my new body, for me - and for her.
If I'd had Modibodi at that time, I'd have been in a different state about my body, dealing with my bladder leaks in public would have been one less thing on my mind."
- Shani

We're for belly-laughs.
"As an autistic, queer comedian, for me laughter is the one pure pleasure. But it also has power to make change in other people's lives and our own lives too. It helps resolve pain, to work through it. To hold back a laugh is missing out on an important part of life.
I started experiencing incontinence a few years ago. I was so thankful to not have to deal with those bulky pads, because my friend recommended Modibodi. I'm 50 now and still have a very active busy life. As we age that shouldn't stop, Modibodi gave me the confidence to get on stage and not worry about anything. They're an essential part of my comedy kit - it's a laugh with confidence now."
- Jacci

We're for taking leaps.
"I'd just come out of a relationship, I was working nine to five and I knew something was missing in my life. That's when I decided to restart pole dancing as my hobby. I love how confident it makes me feel, how much I embrace and love my body now, how strong I am.
Modibodi is so reliable and comfortable - even when I'm dancing I feel dry - there's no sweat patch. I can do anything with my body and nothing should stop that, not my period, not self-doubt - I'd say give Modibodi a go if you haven't already."
- Sophie

We're for pushing limits.
"If there's a point to prove, I'll do it. People always tell me I can't do things because I'm in a chair but I'm determined to prove them wrong.
I love my Modibodi because they're just easy - I have bladder leaks as well as my period and I don't actually have the fine motor skills to change pads. But with Modibodi I have the independence I want and they keep me protected."
- Bianca

We're for being unedited.
"I feel vulnerable sometimes, when I'm out with my friends and I don't look like anyone else, it can be scary for me. But I embrace that fear, push it aside and think - I am beautiful. I can do this.
Modibodi makes me feel like I can do everything I can do when I'm not on my period. I suffer a lot of pain from PCOS and Modibodi makes things that little bit easier for me. I feel more comfortable and confident going on about my day than I would without them"
- Kiara